January 23-29, 2017

Fleetwood Mac
TD Garden, Boston, MA, September 23, 2003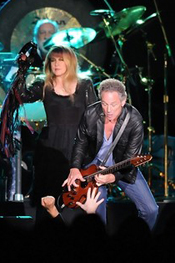 We can report with some certainty that Fleetwood Mac WILL be touring in 2017. We just can't pinpoint exactly when. Mick Fleetwood tells us the band is looking at starting the tour in October, but he'd like to start earlier. Either way, it's going to be a major tour that could span over 2 years. And, it very possibly could be their final tour. Stay tuned!
13 years ago, Fleetwood Mac launched a major tour to promote their "Say You Will" album. They played 136 concerts in just 16 months, including the stunning performance we'll hear this weekend. It was captured live at the TD Garden in Boston on September 23rd, 2003.
Don't miss Fleetwood Mac- they're headlining this weekend's Live in Concert!
This week's setlist:
We'll also hear classic live sets by:


Def Leppard
Recorded live in Los Angeles, CA on 9/11/1983

Meat Loaf
Recorded live in London, Ontario, Canada on 3/18/2007
Collective Soul
Recorded live in Atlanta, GA on 4/23/2005