May 29 - June 4, 2017

Billy Joel
Boston Garden, Boston, MA, September 17, 1993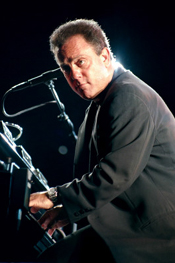 Billy Joel continues to break his own record of consecutive sold-out performances at Madison Square Garden in New York City! With each new concert, he's extending the record by one. His next performance at "The Garden" is Tuesday, June 6th.
He's touring all summer long. You can find his complete itinerary HERE.
This weekend, we're going back to Billy Joel's highly successful "River of Dreams" tour. We'll listen to a legendary performance recorded live at the old Boston Garden. It was September 17th, 1993.
Don't miss Billy Joel- he's headlining this weekend's Live in Concert!

This week's setlist:
We'll also hear classic live sets by:


Huey Lewis & The News
Recorded live in Chico, CA, on 12/14/2004

ELO
Recorded live in London, England, on 6/20/1976
REO Speedwagon
Recorded live in Walker, MN, on 7/16/2010