July 3-9, 2017

Bruce Springsteen & The E Street Band
AMI Stadium, Christchurch, New Zealand, February 21, 2017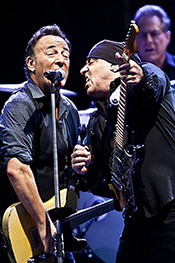 This past February 21st, after 5 decades of touring, Bruce Springsteen and The E Street Band played the city of Christchurch, New Zealand for the very first time!
It came 6 years after a devastating earthquake left the city in shambles- including the very stadium where the concert was held.
Fans filled up the rebuilt A-M-I Stadium, and was an emotional night for all.
Don't miss this special performance by Bruce Springsteen and the E Street Band! They're headlining this week's Live in Concert!

This week's setlist:
We'll also hear classic live sets by:


Joe Walsh
Recorded live in Dallas, TX, on 10/11/1981

Bad Company
Recorded live in Frederick, MD, on 8/1/2010
ZZ Top
Recorded live in Dallas, TX, on 6/6/2004