July 17-23, 2017

Tom Petty & The Heartbreakers
O'Connell Center, University of Florida, Gainesville, FL, March 25, 2016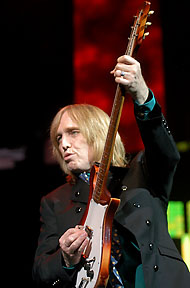 Tom Petty and The Heartbreakers are out touring across North America this summer- it's their 40th Anniversary Tour.
This weekend, we're going back to listen to a classic performance from their 30th Anniversary Tour. It was a hometown gig- captured live at The O'Connell Center, at The University of Florida in Gainesville on September 21st, 2006.
This concert became legendary after Tom brought a special guest up on stage to perform with them. You'll hear this music legend and "honorary Heartbreaker" play with the band during the 2nd set.
Don't miss Tom Petty and the Heartbreakers! They're headlining this weekend's Live in Concert.

This week's setlist:
We'll also hear classic live sets by:


Foreigner
Recorded live in Landover, MD, on 9/8/1978

Cheap Trick
Recorded live in Chicago, IL, on 5/3/1998
Bob Seger
Recorded live in Worcester, MA, on 10/7/1986