August 28 - September 3, 2017

ZZ Top
Nokia Theatre, Grand Prarie, TX (Dallas), November 1, 2007
NOTE: THE STATE OF TEXAS, THE CITY OF HOUSTON, AND THE ENTIRE GULF COAST REGION HAS BEEN DEVASTATED BY THE EFFECTS OF HURRICANE HARVEY. THE FLOODING IS UNPRECEDENTED. BUT YOU CAN MAKE A DIFFERENCE! CLICK HERE TO VISIT THE RED CROSS TO LEARN HOW YOU CAN HELP THE PEOPLE OF TEXAS BY VOLUNTEERING YOUR TIME, DONATING MONEY, OR DONATING BLOOD. OR, SIMPLY TEXT "HARVEY" TO 9-0-9-9-9 TO MAKE A ONE-TIME AUTOMATIC DONATION OF $10.00. THANK YOU.
ZZ Top issues a statement on the historic flooding in Houston. Click here to read.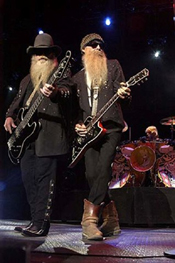 Next week, ZZ Top's "Tonnage" tour is taking them to their beloved home state of Texas, with concerts in El Paso, San Antonio, Dallas, and their hometown of Houston.
This weekend, we'll take you to Dallas for a legendary ZZ Top concert from November 1st, 2007! It was captured live at the Nokia Theatre. Anytime ZZ Top is playing a hometown gig, it's a special experience.
We'll also hear classic live sets from Texas legends like Stevie Ray Vaughan, Don Henley, and The Steve Miller Band, all recorded live in Texas!
"The stars at night are big and bright, deep in the heart of Texas."
It's a salute to the "Lone Star" state with our headliners ZZ Top, this weekend on Live in Concert!

This week's setlist:
We'll also hear classic live sets by:


Stevie Ray Vaughan
Recorded live in Austin, TX, on 4/15/1984

Don Henley
Recorded live in Dallas, TX, on 5/25/2000
The Steve Miller Band
Recorded live in Austin, TX, on 2/26/2011