October 9-15, 2017

Bruce Springsteen & The E Street Band
Agora Ballroom, Cleveland, OH, August 9, 1978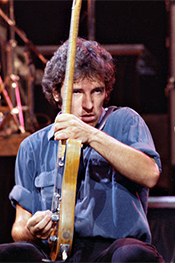 This weekend, we'll hear a concert that came at a critical time during Springsteen's career. He was just starting to become recognized as one of music's great songwriters, and a tireless performer on stage.
The concert was recorded live during his "Darkness On The Edge Of Town" tour, at the Agora Ballroom in Cleveland, Ohio. It was August 9th, 1978.
Don't miss this legendary  performance! It's Bruce Springsteen and the E Street Band- they're headlining this weekend's Live in Concert!

This week's setlist:
We'll also hear classic live sets by:


David Bowie
Recorded live in Uniondale, NY, on 3/23/1976

Robert Plant
Recorded live in Buenos Aires, Argentina, on 11/2/2012
The Who
Recorded live in London, England, on 4/26/1971