April 30 - May 6, 2018

The Police
Omni Coliseum, Atlanta, GA, October 25, 2009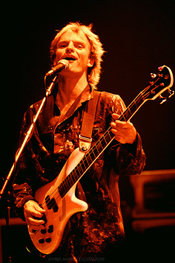 1983 was an incredible year for The Police.
Around the world, their "Synchronicity" album shot up to number one on the charts. They were selling out concerts everywhere.
This weekend, we'll hear one of their performances from that tour. Its as captured live at the Omni Coliseum in Atlanta, Georgia, on November 13th, 1983.
Don't miss this classic performance by The Police- they're headlining this weekend's Live in Concert!

This week's setlist:
We'll also hear classic live sets by:


Bruce Springsteen
Recorded live in St. Louis, MO, on 8/23/2008

Talking Heads
Recorded live in Toronto, Ontario, Canada, on 8/23/1980
U2
Recorded live in New York, NY, on 9/28/1987