August 13-19, 2018

Pink Floyd
Earl's Court, London, England, August 7, 1980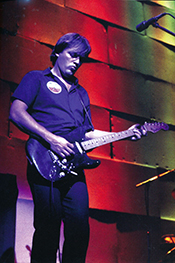 After releasing their groundbreaking album "The Wall" in November of 1979, Pink Floyd put together a live stage show of the concept album.
They performed it 31 times in four different cities: LA, Uniondale, New York, Dortmund, Germany, and London.
This weekend, we'll listen to one of the London performances. It was captured live in front of a sold-out crowd of 20,000 fans at Earl's Court, on August 7th, 1980.
Don't miss this mind-blowing performance from Pink Floyd- they're headlining the next Live in Concert!

This week's setlist:
We'll also hear classic live sets by:


U2
Recorded live in Boston, MA, on 6/9/2001

Robert Plant
Recorded live in Mexico City, Mexico, on 11/12/2012
David Byrne
Recorded live in London, England, on 7/5/2002