November 12-18, 2018

Foreigner
Deer Creek Music Center, Noblesville, IN, June 19, 1993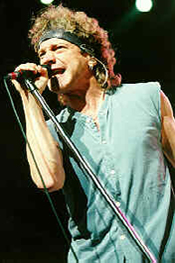 Foreigner is in the middle of a very special series of performances- they're calling it "Double Vision: Foreigner Then and Now." For the first time ever, the current band members have gotten together with the original band members, including the legendary lead singer Lou Gramm.
They have 2 more performances coming up on November 30th in Atlantic City, New Jersey, and December 1st in Uncasville, Connecticut.
This weekend, we're going back to one of Foreigner's greatest live performances. It was captured live on June 19th, 1993, at the Deer Creek Music Center, just outside of Indianapolis. Lou Gramm and Mick Jones were at their very best!
Don't miss the classic lineup of Foreigner- they're headlining this weekend's Live in Concert.

This week's setlist:
We'll also hear classic live sets by:


The Rolling Stones
Recorded live in Paris, France, on 7/11/2003

Joan Jett & The Blackhearts
Recorded live in Boston, MA, on 5/15/1981
Robert Palmer
Recorded live in New York, NY, on 12/15/1988