January 14-20, 2019

Bruce Springsteen & The E Street Band
United Center, Chicago, IL, September 30, 1999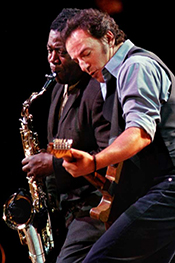 In the spring of 1999, shortly after being inducted into the Rock and Roll Hall of Fame, Bruce Springsteen rebooted the E Street Band and launched a massive reunion tour.
It had been 10 years since they played together, but the magic immediately returned!
This weekend, we'll listen to a concert from this reunion tour- the final performance of a 3 night stand of sold-out shows at the United Center in Chicago. It was September 30th, 1999.
Don't miss Bruce Springsteen and the E Street Band! They're headlining the next Live in Concert.

This week's setlist:
We'll also hear classic live sets by:


Peter Frampton
Recorded live in San Francisco, CA, on 6/15/1995

.38 Special
Recorded live in Sturgis, SD, on 8/12/1999
The Cars
Recorded live in Toronto, Ontario, Canada, on 9/14/1978