July 15-21, 2019

Billy Joel
Boston Garden, Boston, MA, September 21, 1993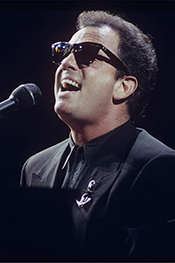 He continues to break his own record for the most consecutive sold-out shows at Madison Square Garden in New York City. He's vowed to play there at least once a month, indefinitely.
Check out Billy Joel's entire itinerary here!
This weekend, we're excited to bring you a concert from Billy Joel's "River of Dreams" tour.
It was captured live at Boston Garden on September 17th, 1993. The concert came early in the tour- it was just the 3rd night, and the middle of a 3 night stand at Boston Garden.
Don't miss this legendary performance by Billy Joel- he's headlining the next Live in Concert!


This week's setlist:
We'll also hear classic live sets by:


Robert Plant
Recorded live in Mexico City, Mexico, on 11/12/2012

Boz Scaggs
Recorded live in New York, NY, on 4/5/1981
R.E.M.
Recorded live in Dublin, Ireland, on 2/26/2005