July 22-28, 2019

Queen
Montreal Forum, Montreal, Quebec, Canada, November 24, 1981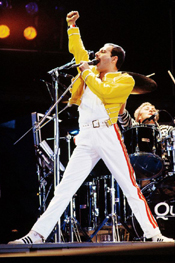 Click here for Queen's 2019 itinerary, and purchase tickets!
As Queen continues their "Rhapsody" tour with Adam Lambert, we're going back to the band's 1981 tour, promoting their landmark album, "The Game."
We'll listen to a concert captured live at the Montreal Forum exactly 10 years to the day before the untimely death of lead singer Freddie Mercury. It was November 24th, 1981.
Don't miss the classic lineup of Queen! They're headlining the next Live in Concert.


This week's setlist:
We'll also hear classic live sets by:


Journey
Recorded live in Detroit, MI, on 5/16/1980

Peter Gabriel
Recorded live in The Woodlands, TX, on 6/12/2003
The Police
Recorded live in Boston, MA, on 11/27/1979