September 9-15, 2019

Lynyrd Skynyrd
Freedom Hall, Louisville, KY, June 15, 2007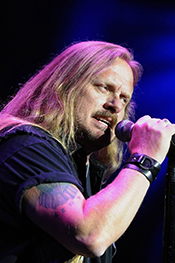 This weekend, we're celebrating the end of Lynyrd Skynyrd's touring career.
We'll listen to a legendary performance from their 2007 "Rowdy Frynds" tour. It was captured live at Freedom Hall in Louisville, Kentucky on June 15th, 2007.
We know you'll enjoy this one! Don't miss southern rock legends, Lynyrd Skynyrd! They're headlining the next Live in Concert.


This week's setlist:
We'll also hear classic live sets by:


ZZ Top
Recorded live in Essen, Germany, on 4/20/1980

Bon Jovi
Recorded live in New York, NY, on 10/27/1992
Bad Company
Recorded live in Bethel Woods, NY, on 7/27/2013