August 31 - September 6, 2020

U2
United Center, Chicago, IL, May 10, 2005
The COVID-19 pandemic may have stunted live performances, but that hasn't stopped bands like U2 from keeping busy with other projects! Visit their site HERE to see what Bono & co. have stayed busy with!
!Back in 2005, U2's "Vertigo" tour was massive! It took 2 years, 5 legs, covering 5 continents, and a total of 131 concerts in 23 countries!
On the next broadcast of Live in Concert, we'll hear one of those concerts- a legendary performance captured live at the United Center in Chicago. It was May 10, 2005.
Don't miss this legendary performance by U2- they're headlining the next Live in Concert!

This week's setlist: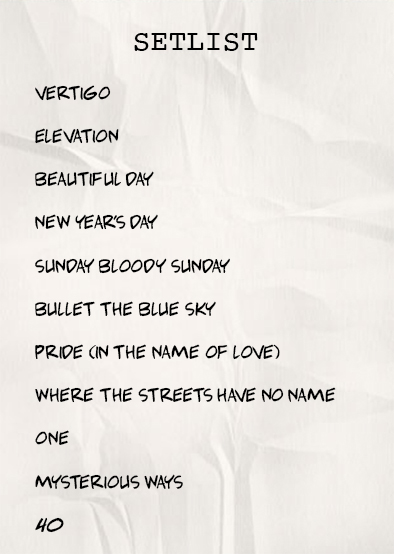 We'll also hear classic live sets by:


Bruce Springsteen & The E Street Band
Recorded live in Passaic, NJ, on 9/20/1978

Night Ranger
Recorded live in San Rafael, CA, on 5/17/2012
Cheap Trick
Recorded live in Tokyo, Japan, on 4/28/1978