February 15-21, 2021

Journey
Zappos Theatre, Planet Hollywood, Las Vegas, NV, March 8, 2008
On the next Live in Concert, we're going back to Journey's 2008 "Revelation" tour.
They had just hired a new lead singer, Arnel Pineda from the Philippines, and he was accustomed to playing to crowds of about 50 people in small clubs. We'll listen to just his 3rd performance with Journey- in front of thousands of fans!
It was captured live at Planet Hollywood in Las Vegas on March 8, 2008. Arnel Pineda won over the fans- quickly and decisively!
Don't miss this incredible live performance from Journey! They're headlining the next Live in Concert.


This week's setlist: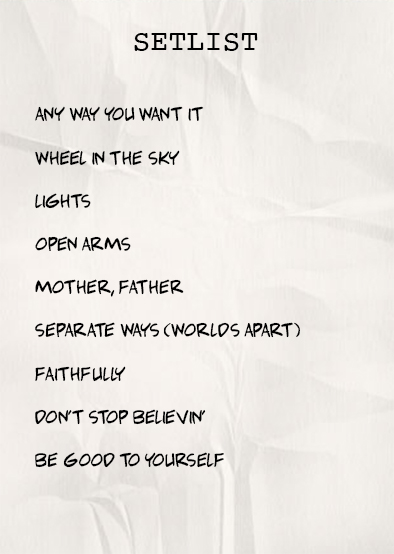 We'll also hear classic live sets by:


Aerosmith
Recorded live in Las Vegas, NV, on 1/11/2002

Pat Benatar
Recorded live in Anaheim, CA, on 7/6/2001
Billy Joel
Recorded live in Boston, MA, on 9/17/1993