April 12-18, 2021

The Who
Universal Amphitheater, Universal City, CA, August 24, 1989
When The Who launched their "The Kids Are Alright" tour in 1989 to celebrate their 25th anniversary, it was their first tour since the band had brooken up in 1982.
During the tour, The Who would play 2 sets each night- the first was a set featuring music from their rock opera "Tommy", and the 2nd was a greatest hits set.
On this broadcast of Live in Concert, we'll listen to a special performance from this tour. It was captured live in front of just 5,500 fans at the Universal Amphitheater in the Los Angeles area on AUgust 24, 1989. The small crowd paid big bucks for tickets to this exclusive performance!
Don't miss this historic performance by The Who- they're headlining Live in Concert!


This week's setlist: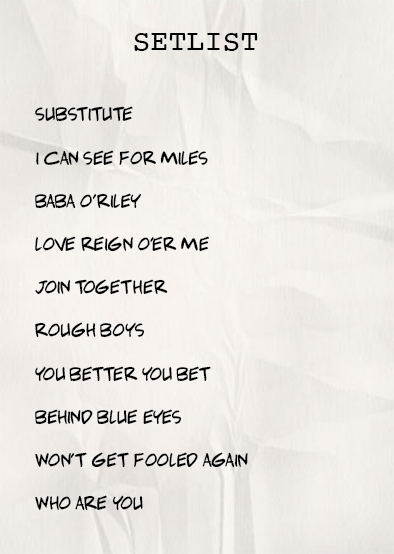 We'll also hear classic live sets by:


Robert Plant
Recorded live in Los Angeles, CA, on 10/8/2016

Bad Company
Recorded live in London, England, on 3/9/1979
U2
Recorded live in Sydney, Australia, on 11/27/1993