May 24-30, 2021

Jeff Lynne's ELO
Wembley Stadium, London, England, June 24, 2017
An argument could be made that ELO is more popular today than they were during their heyday in the 70's. Their resurgence has been absolutely remarkable.
They're currently celebrating their 50th anniversary. They were supposed to be touring in support of their latest album, "From Out of Nowhere." But like every other concert tour, it was canceled due to Covid. Stay tuned for updates!
On this broadcast of Live in Concert, we'll listen to a legendary performance from the summer of 2017. It was captured live on June 24th, in front of a capacity crowd of over 60,000 at Wembley Stadium in London.
Jeff Lynne has said it was the best time he's ever had in music!
Don't miss Jeff Lynne's E-L-O! They're headlining this weekend's Live in Concert.


This week's setlist: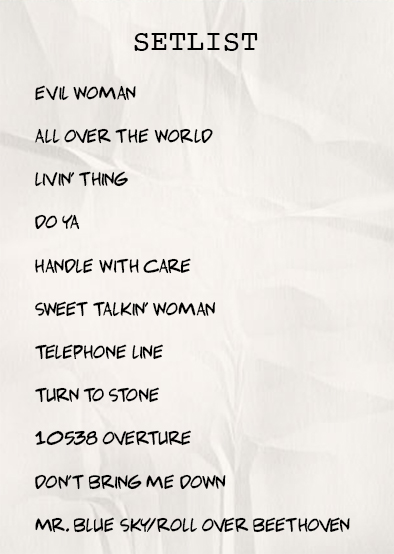 We'll also hear classic live sets by:


Aerosmith
Recorded live in Sunrise, FL, on 4/3/2004

Crowded House
Recorded live in Vienna, VA, on 7/26/2010
Elton John
Recorded live in New York, NY, on 9/13/1980