April 10-16, 2023

Styx
Allstate Arena, Rosemont, IL, September 21, 1996
Can you believe the "Kilroy Was Here" album, featuring "Mr. Roboto" recently turned 38 years old? Styx has details on many of their milestones documented on their website. Visit Styxworld.com for all the details!
Back in 1996, after years of listening to fans beg and scream for a reunion with original lead singer Dennis DeYoung, Styx worked out their differences with DeYoung and put together a reunion tour.
This weekend, we're bringing you the final performance form that tour- a legendary performance captured live in their hometown of Chicago on September 21, 1996.
Don't miss midwest rock legends Styx! They're headlining this weekend's Live in Concert!

This week's setlist: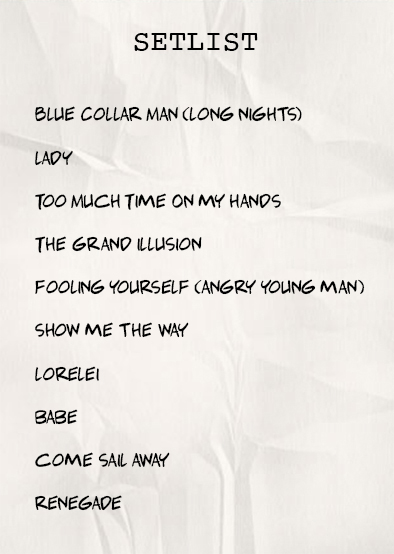 We'll also hear classic live sets by:


Loverboy
Recorded live in Peachtree City, GA, on 7/29/2005

Aerosmith
Recorded live in Las Vegas, NV, on 1/11/2002
Queen
Recorded live in London, England, on 12/24/1975