July 31 - August 6, 2023

David Bowie
The Forum, Montreal, Quebec, Canada, July 13, 1983
David Bowie made a career out of reinventing himself, and his music. He inspired countless others, and for his efforts, was inducted into the Rock and Roll Hall of Fame.
In 1983, Bowie felt it was once again time for a change. Except this time, this transformation would be into a more polished, mainstream direction. The result was his biggest commercial success! Bowie gained millions of fans with the release of his landmark album, "Let's Dance."
Shortly after releasing the album, Bowie launched the "Serious Moonlight" tour. For him, it was massive. In a little over 6 months, he played 96 concerts over 8 legs. And those concerts were no longer at small clubs and theatres- they were at full sized arenas.
On this broadcast of Live in Concert, we'll listen to a legendary performance from this tour. It was captured live at the Forum in Montreal, Quebec, Canada, on July 13, 1983.
Don't miss the late, great David Bowie! He's headlining Live in Concert!


This week's setlist: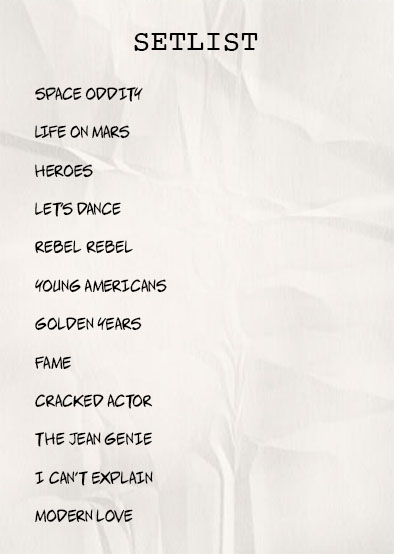 We'll also hear classic live sets by:


Leon Russell
Recorded live in Long Beach, CA, on 8/28/1972

Phil Collins
Recorded live in Pasadena, CA, on 11/19/1982
Kansas
Recorded live in Upper Darby, PA, on 2/14/1989