October 30 - November 5, 2023

Bad Company
Wembley Arena, London, England, March 9, 1979
By the time Bad Company played this concert, they had established themselves as one of the world's premiere rock bands.
Throughout the mid 70's, they put out album after album of rock staples we still enjoy today. Then came their 5th studio album (many call it their last great album), "Desolation Angels." It was released on St. Patrick's Day, 1979.
On this broadcast of Live in Concert, we'll hear a concert captured live 8 days before that album was released- it was March 9, 1979. Bad Company took the stage at Wembley Arena in London and put on a legendary performance.
Don't miss the classic lineup of Bad Company! They're headlining Live in Concert.

This week's setlist: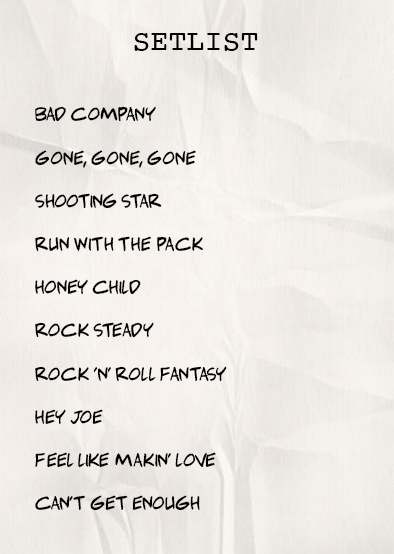 We'll also hear classic live sets by:


Stevie Ray Vaughan
Recorded live in Newport, RI, on 8/8/1985

Lynyrd Skynyrd
Recorded live in San Francisco, CA, on 3/7/1976
Deep Purple
Recorded live in Newcastle, Australia, on 3/14/2001